Sleigh Rides at Pineland Farms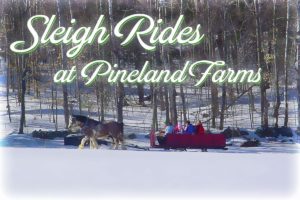 Sleigh Rides at Pineland Farms 2019
"Enjoy a sleigh ride behind a beautiful team of draft-horses through the snowy fields at Pineland. Hop aboard the sleigh from Stillbrook Acres for a horse-drawn winter adventure on the farm."
Tickets: $6 (ages 2 and under are free)
Location: Meet at the Smokehouse on the Valley Farm
Please arrive 10-15 minutes prior to your sleigh ride departure time to allow ample time to load. If you arrive LATER than your chosen time you will not be able to participate in the event. The sleigh has 10 seats available per time slot. No discounts or seasons pass rates applicable. Tickets are non-refundable or transferable.
Rides will take place in light snow, but if you are concerned about the weather please don't hesitate to inquire. The condition of our trails determines whether or not we use sled runners or wheels, with too much or too little snow we will run sleigh rides as wagon rides.
If your ride is canceled due to inclement weather and unsafe conditions, your tickets will be refunded.
*Adult supervision required*
DATES AND TIMES:
Wednesday February 20, 2019
12:00-12:25 pm
12:25-12:50 pm
12:50-1:15 pm
1:15-1:40 pm
1:40-2:05 pm
2:05-2:30 pm
Friday February 22, 2019
12:00-12:25 pm
12:25-12:50 pm
12:50-1:15 pm
1:15-1:40 pm
1:40-2:05 pm
2:05-2:30 pm
Contact Education
207.650.3031
education@pinelandfarms.org