Photo Contests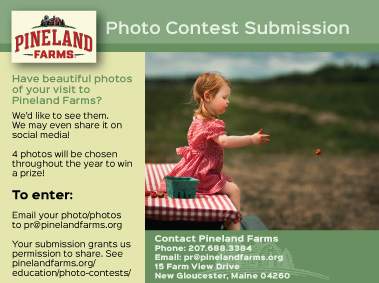 Pineland Farms Photo Contest: Submit to PR@PINELANDFARMS.ORG
OFFICIAL RULES
NO PURCHASE NECESSARY TO ENTER OR WIN. A PURCHASE OR PAYMENT OF ANY KIND WILL NOT INCREASE YOUR CHANCES OF WINNING.
Eligibility: Entrants must be legal residents of the United States and at least eighteen (18) years old at the time of entry.
Agreement to Official Rules: By participating, entrants agree to these Official Rules and the decisions of Pineland Farms, Inc. (PFI) which are final and binding in all matters related to this contest.
Timing: The Contest runs every three (3) months. Winter Jan. 1 – March 31, Spring April 1 – June 30, Summer July 1- September 30, and fall October 1 – December 31. The contest for each season begins at 7:00 am Eastern Daylight Time ("EDT") and ends at 11:00 pm EDT on the last day of each such season (each "Contest Period").
How to Enter: We want to see your photos at Pineland Farms. The photo/photos must be located at Pineland Farms and your own original photography. To enter email your photo submissions to pr@pinelandfarms.org. Multiple entries are allowed. Upon emailing the photo, you will automatically be entered into the Contest.
Winner Selection:  A panel of judges made up of representatives of PFI will select the top 10 photos within (2) weeks after Contest Period. The winner will be selected via a public vote of the Top 10 on social media. The Odds of winning are dependent upon number of entries received. The winner will be notified via email. The winner will have forty-eight (48) hours to respond to a prize notification message from PFI or an alternate winner may be selected. PFI may report, as required by applicable statute or regulation, the value of prize and the identity of the winner, to appropriate taxing authorities. Except as specifically provided herein, the Grand Prize is guaranteed to be awarded.
Rights in Entrant's Content: By participating in the contest, each entrant agrees that Pineland Farms, Inc. and its designees (collectively, "PFI") shall have the unrestricted right to use the entrant's contest entry photograph and any other photographs submitted by the entrant, the entrant's Instagram and/or Facebook name or handle (ID), the entrant's messages and/or likeness, and/or any applicable prize information (collectively, "Content") for any and all purposes, including, without limitation, promotional, advertising or other purposes, worldwide, in any and all media now known or hereafter devised, and without further payment, notification, permission, or other consideration to or of any other person, and with or without attribution, except where prohibited by law.  Supplementing and without limiting the generality of the foregoing, each entrant hereby unconditionally grants to PFI a perpetual, non-exclusive, irrevocable, fully-paid, royalty-free, sub-licensable and transferable, universal, worldwide license to use (including, without limitation, by displaying, distributing, copying, storing, editing, modifying, creating derivative works from or based upon) such entrant's Content, in whole or in part, by all means and in all media now known or hereafter devised, including, without limitation, PFI's website(s), apps, email, any and all social media channels, and other advertising or marketing media, for any and all purposes without payment to, notice to, permission of, or other consideration to, such entrant or any other person, and with or without attribution. Each entrant represents, warrants, and agrees that: such entrant owns or otherwise controls all of the rights to all of such entrant's Content; use of such entrant's Content and the rights granted herein do not violate the rights of and will not cause injury to any person; and such entrant shall indemnify, defend, and hold harmless PFI and PFI's officers, directors, trustees, employees, agents, licensors and suppliers (collectively, "Indemnitees") from and against any and all claims, losses, liabilities, expenses, damages, and costs, including reasonable attorneys' fees and legal expenses, arising out of, resulting from, or relating to any such entrant's Content and/or any breach of any representation, warranty, or terms set forth herein. PFI has the right (but not the obligation) to monitor, edit, or remove any activity or content submitted by or involving any entrant. PFI has no responsibility, and assumes no liability, for any Content posted or sent by any entrant or any other person.
Prize: Grand Prize: Four (4) Grand Prize winners will be chosen, (1) each season spring, summer, fall, winter. Prize subject to change, up to a $100 value.
General Conditions: PFI reserves the right to disqualify any individual in violation of these Official Rules, cancel, suspend and/or modify the giveaway, or any part of it, if any fraud, circumvention of the rules by one or more entrants, technical failures or any other factor impairs the integrity or proper functioning of the giveaway, as determined by PFI in its sole discretion.
Limitations of Liability: By participating in this giveaway and if chosen as a winner and accepting a prize, entrants agree that none of the Indemnitees shall be liable for any losses, damages, rights, claims, or actions of any kind in connection with the giveaway or resulting from the winner's participation in the giveaway, acceptance, possession, use, misuse, of any prize, including without limitation, personal injury, death, and property damage and claims based on publicity rights, privacy or defamation.
Winner: Winning Photo will be posted on Facebook and Instagram within (2) weeks after the end of each Contest Period.
For a printable version of the Photo Contest Rules, click here.