Sledding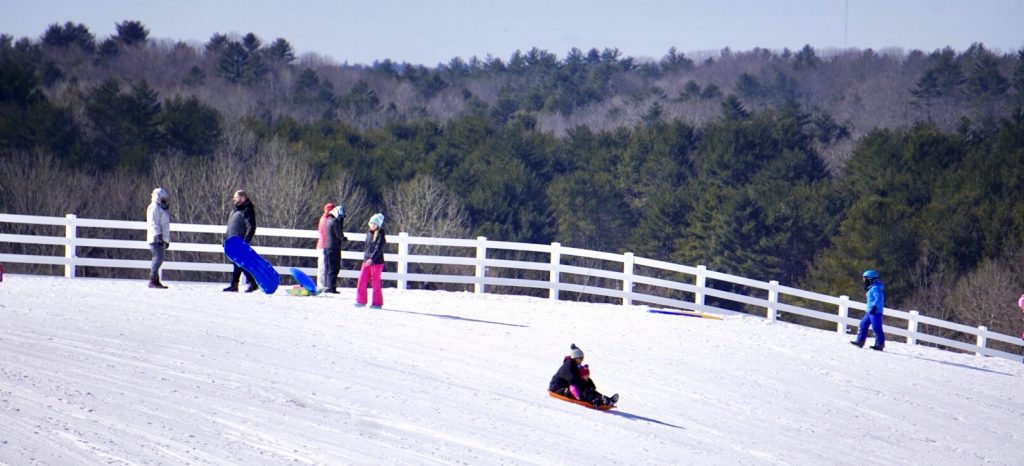 Take a run down our giant sledding hill! We groom the hill with our trail grooming equipment as conditions permit. Bring your own sled, or rent one from the Outdoor Center. The hill is open daily (Please see our trail conditions for closures) during the winter months, from dawn to dusk for free.
TRAIL CONDITIONS click here to check if the sledding hill is open or closed do to weather conditions.
For more information, please call 207.688.6599.
Sledding availability is subject to weather and safety conditions.
To ensure the safety of all our visitors and our farm animals please note that Pineland Farms does not allow dogs on the premises. Thank you for your cooperation.
PRICING:
FREE to the public
Hours:
Open dawn to dusk (Please see our trail conditions for closures)
Location:
To get to the sledding hill, follow directions to the Market at 15 Farm View Drive, New Gloucester, Maine then take your first left onto Valley Farm Rd. The cleared parking area is right after the greenhouse. The sledding hill is a short walk down Creamery Lane.
FAQ:
Parking is limited and only allowed in designated areas (marked with sledding hill parking signs).
There is NO PARKING along the road, at the greenhouse, or at the Pineland Farms Natural Meats Company to allow farm vehicle, and employee access.
Parking is first-come first-serve. Overflow parking is available on the Pineland Farms campus.
Pineland Farms does not allow dogs on the premises, in an effort to ensure the greatest safety of all visitors to the farm and Pineland Farms animals.
Sledding is allowed on groomed area only.
Please visit our trail conditions page for daily updates and do not sled if the sledding hill is closed.
Please be respectful to others sledding on the hill and our staff members who alert you to sledding closures, safety conditions, and parking concerns.
Visit the Farm:
Before or after sledding you may choose to visit the farm. To visit the farm and farm animals, a 2 hour farm pass is required!
NOW RENTING SLEDS!
$5 (all day)
Pick up at the Outdoor Center at 25 Campus Dr. New Gloucester, Maine (the former YMCA location).