Our Market
Specials:
Find our Daily Lunch and Soup Specials on Instagram & Facebook Stories.
Check out our weekly specials flyer. (available instore & online)
Snow Globe Rentals Available.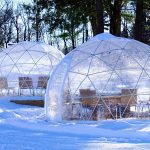 Our snow globe rentals are back this winter! We hope you'll warm up in one while enjoying a day of skiing, snowshoeing, ice skating, disc golf, and sledding!
All snow globes are heated and seat 4-8 people. We have 4 available at $20/hr. Reservations are being accepted now with a start date of Monday, 12/27.
Reserve by calling the Market at 207.688.4539.
https://pinelandfarms.org/snow-globe-rentals/
Menus:
Deli – Custom sandwiches will be made Monday-Friday. Weekends pre-made sandwiches (including gluten free and veggie) will be available.
Breakfast