Skating
Enjoy another great part of winter in Maine: ice skating! NEW in 2020 we've built an Ice Skating Rink which we hope will allow for safe and reliable ice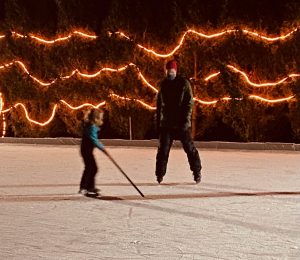 skating. Parking will be available by the tennis courts on Morse Rd. Weather permitting (Please view our Trail Conditions for updates).
PRICING:
FREE/to the public
Hours:
Sunrise to 9pm (lights turn off)
Information:
Our new 50'x100′ rink can accommodate up to 22 people at a time. If the rink is to capacity please wait your turn. We do not offer rentals for ice skates.
Our skating rink will be open to the public for skating related sports on a first-come first-served basis and is not intended for league events. We ask that participants are respectful to others and safely enjoy this free space.
After taking a few turns on the rink, warm up by the fire or stop in at our Welcome Center where you can warm up with a hot drink, enjoy great views of Mt. Washington and peruse the extensive inventory of Maine-made products. The Market & Welcome Center also has contact free takeout, Order Online and it will be ready in 30 minutes to pickup and picnic by the ice rink or reserve a private heated Snow Globe!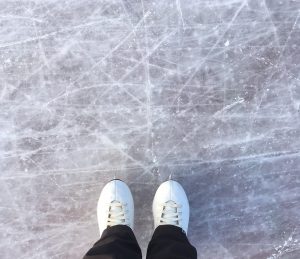 Rules:
• Do not skate or walk on the ice if the rink is closed. Walking on the snow and slush causes bumps when frozen.
• This rink requires 5" of ice to protect the liner from tearing and water draining out.
• Do not kick holes, chip or gouge the ice.
• Carry out what you carry in. Please pick up trash so that others can enjoy the space after you.
• To ensure the safety of all our visitors and our farm animals please note that Pineland Farms does not allow dogs on the premises.
• Ice rink limited to 22 people. If there are 22 people skating, please wait your turn.
• Please follow social distancing and CDC guidelines.
• Please adhere to all posted signs.
Skating availability is subject to weather and safety conditions.
For more information, please call 207.688.6599!