Mayall Mills
As the snow begins to melt this spring, it may be the perfect time to get outside and discover a little piece of history before the foliage begins to bloom.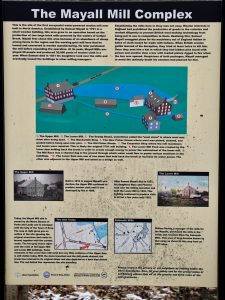 Not far from the Pineland property lies the remnants of an old woolen mill. Located at 254 Mayall Rd, Gray, Maine, this historical site is maintained by the Maine Department of Conservation Bureau of Parks & Lands and the town of Gray, Maine.
The Mayall Mill was the first successful water-powered woolen mill ever built in North America. It was established by Samuel Mayall in 1791. Samuel recognized an opportunity to bring water-driven woolen mill technology to the American market by smuggling English trade secrets out of the country. Using those secrets, he successfully built this mill on the Collyer Brook.
However, his deception didn't go unnoticed. England didn't want the mill to succeed in fear of competition from the colonies. There were at least two attempts on Samuel Mayall's life. They first sent him a hat with needles laced in poison and then a box of pistols rigged to go off when opened. Luckily, Samuel was not fooled and survived both.
The Upper Mill was built in 1816 to expand production. Samuel Mayall died in 1831 but his daughters Mary and Phanela took over the mill operation and kept it going. They built the Lower Mill in 1834. In 1886 the Upper Mill was destroyed by fire but water from the Collyer Brook continued to power the Lower Mill until 1902.
As you walk the site, there are three educational signs that help paint the picture of what the mill buildings once looked like. The Collyer Brook still runs through the property but has returned to its original shape since the dams breached and the mill ponds drained.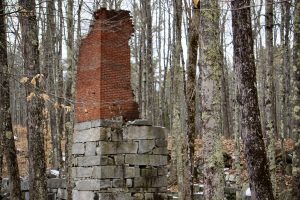 At its peak the mill employed 20 people and produced 30,000 yards of woolen cloth in a year. Today, the brick and granite that once formed the mill have turned to rubble. A single corner from the Upper Mill still stands today.
When visiting, there is parking on the side of the road close to the Upper Mill on Megquier Rd. near the intersection of Megquier & Mayall Rd. The Lower Mill site can be accessed by walking a short distance and is located just before the bridge on Megquier Rd. Please stay inside the border of the historical site, adhere to all posted signs and be respectful of the ruins and abutting private properties.