Pineland Farms Cheese has a New Look!
The dairy cows at Pineland Farms comprise one of the oldest registered Holstein herds in the United States. Purchased from Michael Wilson who, with his predecessors developed the "Trina" family. These cows were the reason why Pineland Farms started making cheese in the first place. Our cheese making began in 2005 and quickly the Pineland Farms Dairy Company became the largest producer of cheese in Maine, winning numerous awards including several first-place honors from the American Cheese Society.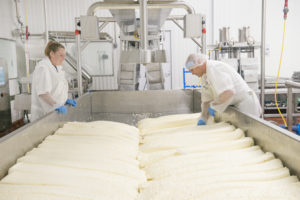 As years went by the Pineland Farms Dairy Company began to outgrow its first location. In 2018 the Dairy Company underwent a major expansion when it moved from its roots at the Creamery in New Gloucester, Maine to the old Grants Dairy facility in Bangor, Maine. This move gave the Dairy Company enough space to grow and to keep all production and storage needs in one location.
Just as before, all the milk the Pineland Farms Dairy Company processes adheres to our strict, all-natural standards. Our milk comes only from farms who have pledged not to use artificial hormones to increase milk production and our milk is tested to ensure that it never contains any antibiotics. Our fully remodeled facility in Bangor allows Pineland Farms to continue making its award-winning cheeses, while increasing production capacity and allowing for milk processing on site. The new location brings us much closer to many of Maine's dairy farms, allowing the milk to travel less and stay fresher. This means that Pineland Farms can support local dairy farms, process the freshest milk in Maine and craft the best cheeses available.
In addition to this big change in location, it was time for Pineland Farms Cheese to get a new look that represents where Pineland Farms began. When we started drafting up ideas it was important to acknowledge our Pineland Farms Holsteins in New Gloucester, as they are after all, the inspiration that started our cheese making. Each of our cheese packages is designed with one of our favorite award winning cow's unique black and white pattern. On the back of our Cheddar, Sharp Cheddar, Smoked Cheddar, Monterey Jack and Pepper Jack packages you will find the Holstein's name that the package was inspired by.
Thank you for supporting local Maine dairy farms and for choosing Pineland Farms as your source of fresh Maine dairy products.
Maine Cows. Maine Milk. Maine Cheese.
For more information about the Pineland Farms Dairy Company contact:
1 Milk Street,
Bangor, Maine 04401
https://pinelandfarmsdairy.com/ 
To speak with an agent, please call or email us:
 info@pinelandfarmsdairy.com
 207-922-4040