*Update: Exciting Changes in the Farmyard
The grass is turning green, the tree buds are bursting and we have exciting changes in the farmyard! The construction in the education barn has been kicked into high gear as we near
our opening day on May 18th. (Rain date May 19th) Join us from 10am-2pm to meet the animals and loosen up with some farm yoga. We will have wagon rides, face painting and a live tractor demonstration!
We have been scrubbing, vacuuming and preparing for painting as we put everything in place to receive visitors to the renovated "Education Barn" in the Family Farmyard. This space will welcome some new year round residents in the next few weeks as Isabell and Francine the Southdown sheep and Finnsheep move in.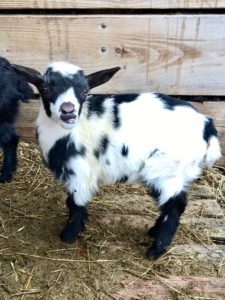 Joining them shortly thereafter will be a small tribe of mixed breed dairy goat kids, who will be bottle fed for the first few weeks until they are fully weaned. These animals will welcome visitors into the barn year round, even in the depths of the long Maine winters. Their job is to be good ambassadors of their breed and aid us in our educational programming, events and experiences.
This fall we will break ground on the next step in our farmyard expansion plan as we continue to find ways to engage our visitors. This new building will be primarily used to boil down some of nature's sweetest liquids for a sweet treat in the late winter months. Keep an eye out for events surrounding next year's sugaring season.
The vision is coming together and we cannot wait to have lambs and kids frolicking in the lush pastures and to have our very own sugarhouse with sap boiling away to help pass the long winter hours on the farm. As we work to create a connection between our community and the forests, fields, livestock and land that we are lucky enough to inhabit, we are thankful for the opportunity to share all of this with our visitors.
For more information about the changes ahead contact Education at 207.650.3031 or education@pinelandfarms.org.