What's in Bloom – The Lilac Garden
Spring is the season of renewal and rejuvenation, and our lilac garden is an excellent living example of that! Starting in April, you'll start to see signs all around you; bright green grass filling in bare lawns and open fields, freshly sprouted buds on once-naked tree branches, birds happily singing and chirping away. Oh, and of course you can't forget about all those beautiful springtime flowers!
Early bloomers like lilacs have become the ultimate symbol of Spring with their delicate flowers in a range of colors (from purple to blue, magenta and white) and their unmistakable sweet fragrance.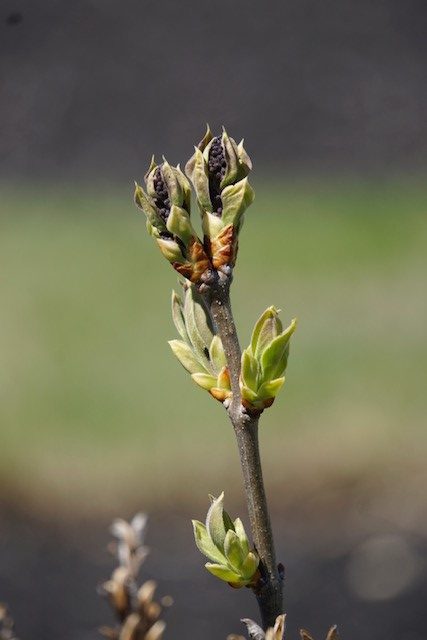 First started in the Spring of 2016, the Lilac Garden at Pineland Farms has grown to include 34 different lilac varieties that generally bloom from mid-May to mid-June with peak bloom around Memorial Day. The Lilac Garden also includes a couple varieties that will rebloom for a second showing mid-summer to fall (read on to learn more about a few of the varieties we have growing in the garden). The season for lilacs goes by incredibly fast, so be sure not to miss it!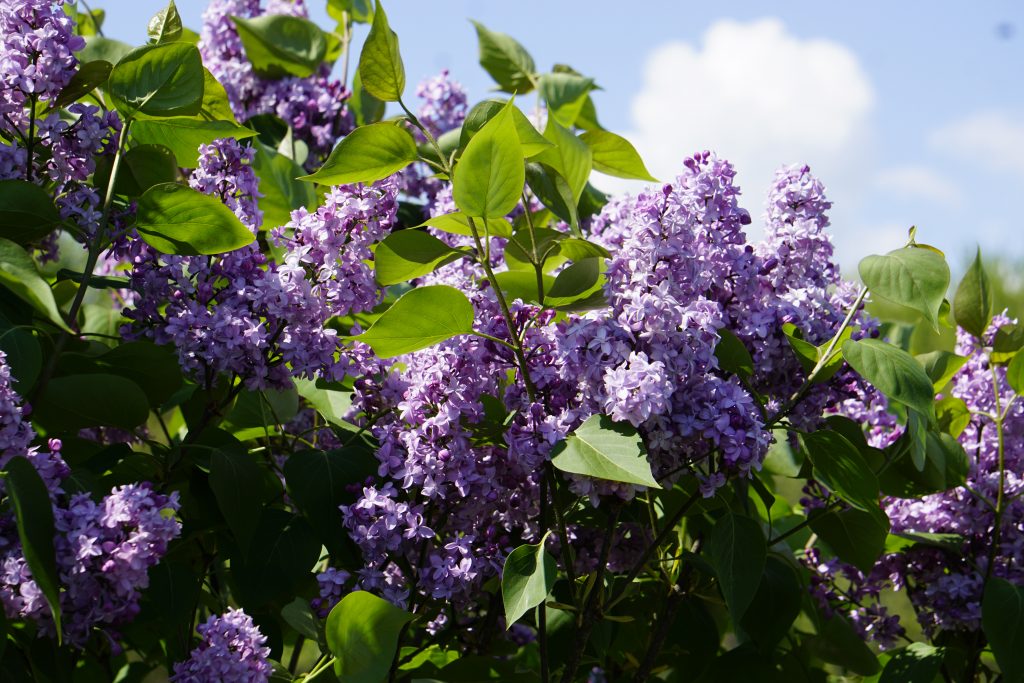 Visiting the Lilac Garden
To visit out Lilac Garden, drive past our 1 acre Perennial Garden on Freeport Rd. and take your next left into the dirt parking area. Follow the signs along a short hike to the lilacs (hiking footwear is recommended as there may be wet areas along the way). Find directions here.
All of our professionally-designed gardens are created and maintained for the public to enjoy and learn. The Garden, Lilac Garden and Annual Displays around Campus and the Great Lawn are available free for all the enjoy from 8am until dusk spring, summer and fall.
Varieties You'll Find in the Lilac Garden
Lilac 'President Lincoln' – Single fragrant blue flower clusters. Size: 10 feet tall. In Bloom: Spring.
Hyacinth Lilac 'Pocahontas' – Deep maroon purple buds open to fragrant violet blooms. Size: 10 feet tall. In Bloom: Early Spring.
French Lilac 'Primrose' – Creamy yellow flowers attractive to birds and bees. Size: 12 feet tall. In Bloom: Spring.
Hyacinth Lilac 'Declaration' – Deep reddish purple fragrant flowers. Size: 6-8 feet tall. In Bloom: Early Spring.
Bloomerang Purple Lilac – Reblooming dark purple fragrant flowers. Size: 4-6 feet tall. In Bloom: Spring, Mid-Summer/Fall.
Lilac 'Agnes Smith' – Late bloomer, single, white fragrant flowers. Size: 5 feet tall. In Bloom: Early Summer.
French Lilac 'Yankee Doodle' – Fragrant deep purple flower clusters. Size: 12-15 feet tall. In Bloom: Spring.
Chinese Lilac 'Lilac Sunday' – Fragrant lavender flower clusters with arching branches. Size: 10 feet tall. In Bloom: Spring.
Upcoming Garden Tours
If you're interested in getting a more hands-on experience with the chance to ask questions and learn more about what we have growing in our gardens be sure to grab a ticket to one of our upcoming Garden Tours. With only a few event dates and limited availability they are sure to fill up fast.