Great Spring and Summer at VAST!
A great spring and summer at VAST with a couple of new adventures!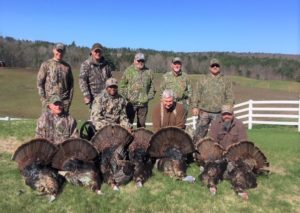 Our VA Grant fiscal year ended Sept. 30, 2019. As we look back on our fiscal year we can not believe how much VAST has grown with participant numbers and faithful volunteers!  We could not have provided the quality and quantity of programming this year without the outstanding support of our fellow Veteran volunteers. Fiscal YTD we have had participation by 231 Unique Veterans. We have accumulated 1,151 Veterans Participant Days and 485 Volunteer Days, during 94 individual events! Most importantly, we provided programming to our fellow Veterans which enabled Veterans to do things they may not have realized they could still do, got veterans out of their houses and enjoying the beauty of Maine, and enabled Veterans the camaraderie of fellow vets 'who get it'. Here's a look at all we've been able to provide our veterans since Spring.
At the end of April, we brought six Veterans to the Merrill Farmhouse for our annual 4 day Turkey Hunt.  With the careful guidance from our friends at the Maine Wardens Service, State Police and Veterans Afield, all the Veterans got at least one turkey. A few tagged out with 2 turkeys on the first morning!  More importantly, this camp allowed friendships to be made that will last for years to come.  And, the late evening session conversations that took place  have had a lasting impact.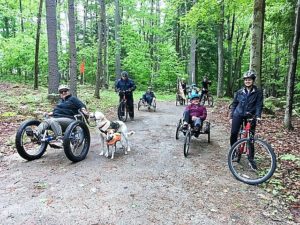 As usual, our Wednesday cycling program started in May and we biked until the end of June. It is hard to know how many total miles were ridden, but needless to say the hardiest of our Veterans and OT Students were put to the test by our volunteers and group of core riders.  Thanks to our knowledgeable volunteers' expertise, we were able to keep all the bikes in good working shape.  In addition to our own collection of mountain bikes, VAST had a fat-bike trike, and a recumbent road hand-cycle that were well-used this Spring.  Of course, Maine Adaptive Sports and Recreation's (MASR) inventory of adaptive bikes really gave us the flexibility we needed for our large group of participants each week.  And, we recently purchased our own XC recumbent hand-cycle that is a perfect match for the Pineland trails!
With the warmer summer temperatures, it was time to hit the water, and we did.  In June, we joined up with the S. Paris Vets Home to bring 19 Veterans on a fishing trip on Long Pond in Naples.  It is probably safe to say that we did not exactly deplete the fish stocks, but we did have fun!  We owe a special thanks to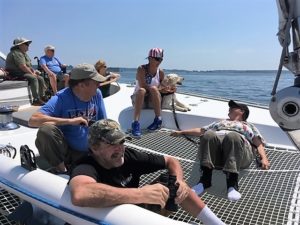 Tim Hoffman from Vets on the Water, Moose Landing Marina and the Freedom Boat Club of Maine for providing the boats and access to the Marina.  We also had the opportunity for another day of sailing on the Impossible Dream.  On July 30, a group of eight Veterans enjoyed the scenes around Portland Harbor and Casco Bay aboard the 60' WC assessable catamaran.   It was a relaxing day with great weather and terrific scenery.
After two months of cycling, we transitioned to our archery program.  This year we operated from a new location at the Equestrian Center.  There were some days when the heat was tough to deal with, but we also saw some pretty impressive shooting.  With the help of our faithful volunteers, we have been able to shoot with a wide range of bow types and assortment of arrows for use with the various kinds of bows.  By the end of the season, we seemed to have mastered our new high-end compound bows with some of the Veterans being able to get very tight groups around the bulls-eye.  And, we made good use of our lighter weight bows so that we could accommodate everyone's needs.  Of special interest is the ongoing project with engineering students from UMaine to design and build a new bow support stand that will better meet the needs of Veterans that may not be able to hold and draw the bow because of impairments.  We are a number of months away form seeing the end product but are excited about the possibilities it will bring to our program.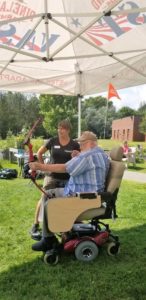 As we have done in the past, VAST loaded up our equipment trailers and took our program to the road!  Over the course of 4 months, we provided 15 days of programming to the Travis Mills Foundation Retreat, the S. Paris Veterans' Home and MASR's Veterans-No-Boundaries Camp.  Whether it was archery, laser rifles, boccia or adaptive walking, we saw Veterans willing to try something they had never done before or perhaps didn't think they could still do.  Young and old alike, including wives and kids, the intensity and focus we witnessed was inspiring.  We heard a lot of laughs, a lot of cheers and a few groans.  The one thing we did not hear was, "I can't do this."  It takes some extra effort for VAST to provide this support off the Pineland Farms campus, but the reward makes it worthwhile.  Additionally, over the course of the summer, we also partnered with MASR to provide Wheelchair Tennis at the Pineland courts.  While this is mostly a non-Veteran group, a couple of our weekly regulars participated as well.
There were also two new adventures for our Veterans this Summer.  On August 26-27, a group of eight, Veterans, including those with disabilities completed a 23 mile 2 day overnight traverse of the Presidential Range summits in New Hampshire. Even for those that were accustomed to hiking, this was a challenging event requiring all to dig deep. It was Veterans helping Veterans during the hike, never leaving a hiker behind over the 2 day challenging hike. Funding for our overnight at Lake of the Clouds Hut was provided by our friends at the Azimuth Check Foundation.  Later this summer, with the help of an old friend, Kelsey Moody and Team River Runners, a group of 10 Veterans and volunteers spent September 9 white water rafting on the Kennebec.  After starting in The Forks they navigated through some Class 4 rapids before hitting calmer waters where most everyone ended up in the water floating downstream.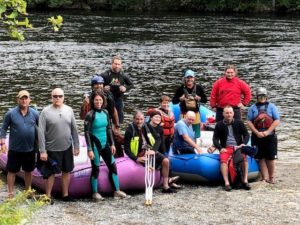 As we did this past winter, VAST was able to use funding from our Avangrid Foundation grant to cover the costs of a cycling trip to Maine Hut and Trails' Flagstaff Lake Hut, Sep 29-30. We arrived in time for a quick lunch the first day, and then an afternoon of riding on a sunny crystal-clear day with beautiful fall colors.  Two of our Veterans were on hand cycle recumbent bikes.  By the end of the day we had covered over 14 miles!  As always, the scenery and food were amazing! The cozy huts make the perfect spot for Veterans to enjoy each other's company around the late evening fire. Maine Huts and Trails is facing some challenging times, but we are hoping to be back up there again for our winter XC ski trip.
Needless to say, these last months have had something for almost everyone.  We try to add variety to our programming whenever we are able to do so.  If there is something a Veteran is interesting in doing, we try to make it happen or find another organization that meets the need.  We are in a shoulder season right now, so our weekly activities have included Bocce, Badminton, Bowling, WC basketball, and Disc Golf. During inclement weather this Fall, we'll head indoors for bowling and WC Basketball at the YMCA at Pineland Farms.  However, Old Man Winter is just around the corner and that means snow.  Let's make this long snowy winter an enjoyable one! We hope to see you out on the trails if not sooner.