Heated Snow Globe Rentals
Heated Snow Globe Rentals will open for the 2024 season on Friday, December 15! Call the Market at 207.688.4539 for reservations!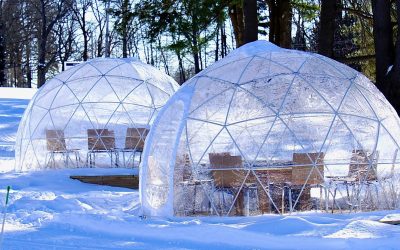 We hope you'll warm up in one of our heated snow globe rentals while you're enjoying a day of skiing, snowshoeing, ice skating, and/or sledding at Pineland Farms. Make sure to check our Trail Conditions daily for updates and winter activity availability. All snowglobes are thoroughly cleaned between reservations. Please adhere to the limited capacity in each snow globe. Reservations can be made 10am-4pm (last reservation).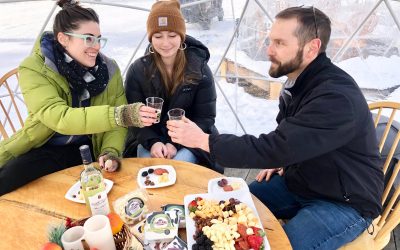 Rental Information
Get in from the cold and relax in your own private Snowglobe! Rentals are $25/hour. The Market closes at 6pm daily.
We have (4) heated snowglobes available to rent.
Seats 8 with a large table.
Seats 6 with a large table.
Seats 6 with two rocking chairs, 4 Adirondack chairs with a large table.
Seats 4 with a wicker couch, 2 chairs and a table.
Daily 1-Hour Time Slots:
10am-11am
11:30am-12:30pm
1pm-2pm
2:30pm-3:30pm
4pm-5pm
The Market also has limited seating indoors. Call 207.688.4539 to reserve!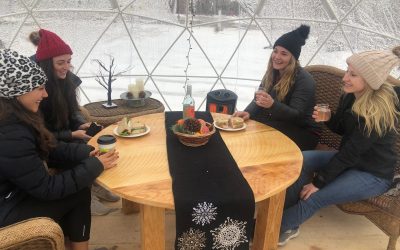 FAQ's
Reservations are nonrefundable.
Reservations may be rescheduled in event that the market closes due to storm.
We do not provide table service to the domes.
Order from the Market for pickup 207.688.4539 or bring your own picnic (carry in, carry out).
If ordering from the Market, we recommend placing and paying for order at least 30-45 minutes before your scheduled time slot for enjoyment of your full scheduled hour in the snowglobes!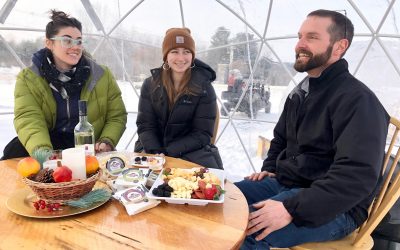 Hear what others are saying about this experience and the many winter activities at Pineland Farms. Check out this blog by Maine the Way: A winter day trip to the Freeport area (with a stop at Pineland Farms snow globes and ski trails)! Or watch this video by Adventuring in the Moment about their visit to Pineland's snow globes and a day of free sledding.