Mangalitsas are in the Farmyard
As we jump into summer, our education department would like you to know about some of our summer animal residents. The Family Farmyard welcomes animals from eight local farms to spend the summer in the lush pastures at Pineland Farms. The purpose of these animals spending the season with us is to educate the public about the importance of farming and the role they play in all of our lives.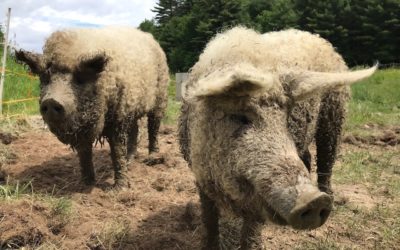 Our pigs come from Old Crow Ranch in Durham Maine, about 15 minutes from Pineland. They are a heritage breed of pig, that is not very common, called Mangalitsas. Mangalitsas are a curing hog from Hungary. First bred in the 1830's as a lard pig, they nearly went extinct but were revived in Europe in the 1990's. The breed first came to the United States in 2007. We are thrilled to have this breed in our Farmyard for folks to learn about and are always excited when they are first mistaken for sheep because of their long curly hair!