1-Acre Monarch Waystation at Pineland Farms
Did you know our 1-acre flower garden is a Certified Monarch Waystation? Monarch Waystations are habitats that provide space, sunshine, shelter, nectar plants, milkweeds, and a sustainable management plan without the use of insecticides.
Pollinators of all kinds including butterflies, bees, hummingbirds and even hummingbird moths benefit from this kind of habitat.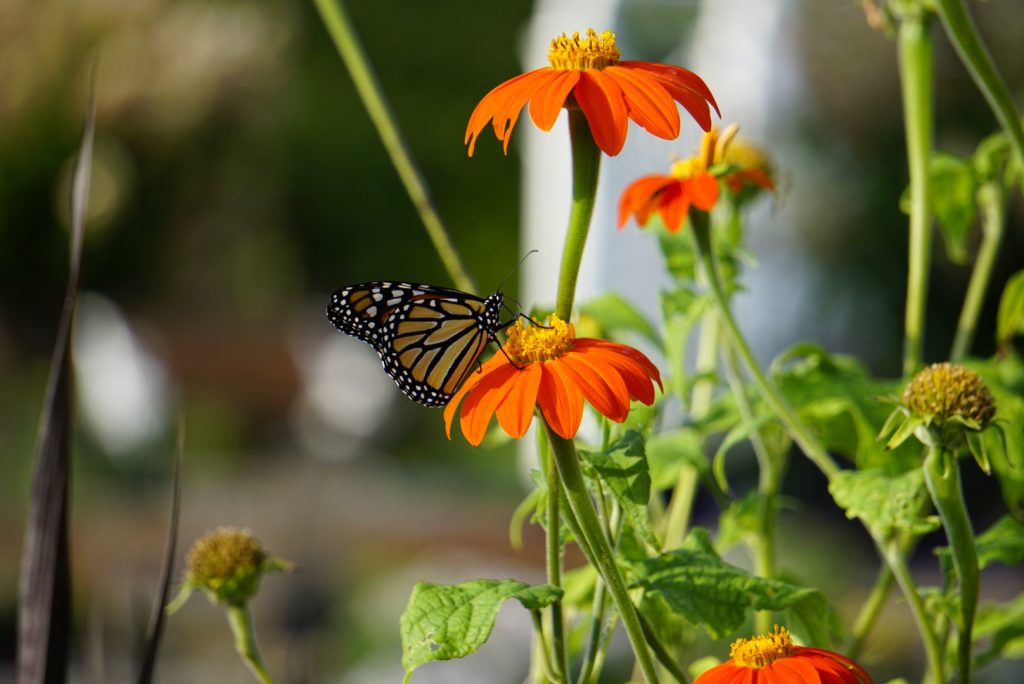 Monarch Butterfly Life Cycle
In early summer our Education Department creates a monarch caterpillar display for visitors to learn about the life cycle of these important pollinators. During National pollinator week (June 19-25) make sure to stop by the Smokehouse Visitor Center on the farm to witness the caterpillars in different stages of their life cycle as they transform into butterflies. Participate in pollinator themed activities throughout each day. When the butterflies hatch they will be released at Pineland Farms and enjoy the benefits of our certified Monarch Waystation.
Importance of Monarch Waystations
Every year in the fall, hundreds of millions of monarch butterflies migrate south from the United States and Canada to Mexico in search of warmer climates to wait out the cold northern winters. Come springtime, they'll begin their long journey home to their spring and summer breeding areas across North America.
Monarch butterflies rely on milkweeds as host plants for larvae and nectar from plants, especially flowers, for the energy required to make their annual migration. Habitats without or lacking in these necessary resources endangers monarch and other butterfly species as they are unable to produce successive generations leading to a decline in the population and the loss of one of the most spectacular species migrations today.
Milkweeds and nectar sources have been in rapid decline due to increased development of natural land areas and widespread use of herbicides and insecticides. The good news however, is that creating a safe and healthy space for monarchs is generally easy to do, doesn't require too much time, space or money, and can have a substantial impact.
You can help by creating your own sustainable habitat in your home garden or on any other unused areas of land by following a few simple guidelines outlined below; it can be as easy as adding milkweeds to existing gardens or maintaining natural habitats with milkweeds and nectar plants.
Once you've created your new monarch-friendly outdoor space you can register it as a Certified Monarch Waystation joining thousands of others all across the U.S.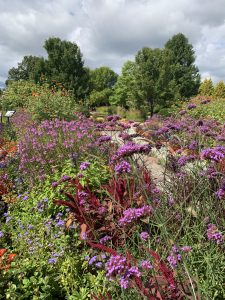 Guidelines for a Monarch Waystation
Size: There is no minimum area requirement however an area of at least 100 square feet is recommended. The total area can be split into smaller sites.
Exposure: Butterflies and nectar plants require a lot of sunshine, so your waystation should be located in an area that receives at least 6 hours of sunlight a day. As for any garden, good drainage is needed to avoid root rot and provide good aeration of the roots.
Shelter: For maximum shelter and protection of monarchs from the elements and predators, plants should be planted relatively close together while being careful not to overcrowd them. When in doubt, it's always a good idea to follow the planting recommendations specific to each plant type.
Milkweed: It's recommended that you include at least 10 native milkweed plants in your waystation. You can plant a single milkweed species but if you want to maximize the use of your habitat by monarchs over a longer period of the breeding season it's recommended that you use two or more species. Common milkweed, swamp milkweed, butterfly milkweed and poke milkweed are all native to the Northeast.
Nectar plants: Plant a variety of flowers that will provide continuous blooms throughout the breeding season (rather than planting just one or two flower types that generally bloom at the same time during the growing season). It is recommended that you include several annual, biennial and perennial plants to provide sufficient nectar for butterflies. Bonus points for filling your space with flowers that are native to your region!
Management: You should have a plan to sustain your monarch waystation. Your plan will depend on the unique features of your habitat but will generally include tasks such as mulching, thinning, amending the soil, removing invasive plant species, and most importantly, eliminating the use of insecticides.
For more information and to see a map of registered waystations across the U.S. check out: https://www.monarchwatch.org/waystations/
The Gardens at Pineland Farms are available free for all to enjoy from 8am until dusk spring, summer & fall.
Interested in a more immersive experience? Pre-register for one of our upcoming Garden Tours where you can stroll the paths, relax and mingle with friends. We'll be here to answer your garden questions. Light refreshments will be served.