Trail Etiquette & Safety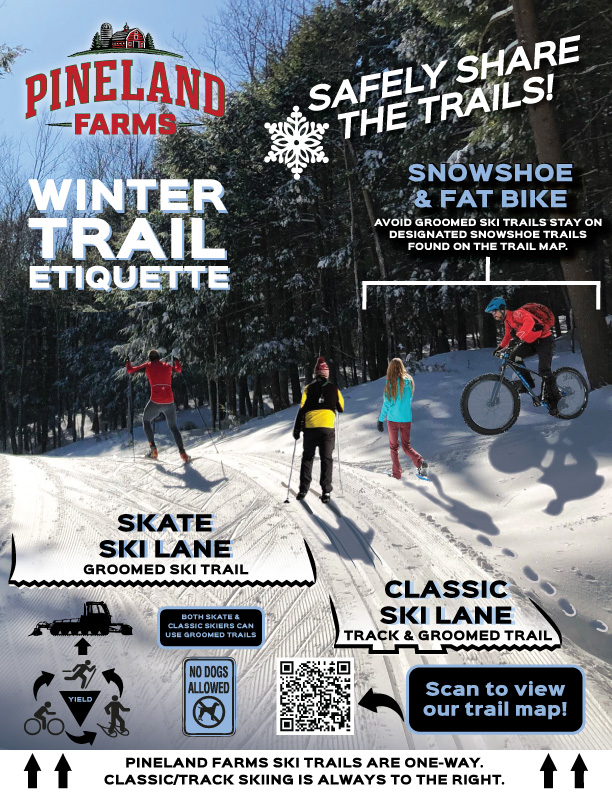 These policies have been developed for your safety and to ensure that everyone
who uses these trails has an enjoyable experience at Pineland Farms.
Pineland Farms Trails Code of Conduct
• Trail passes must be purchased and displayed at all times during the winter season.
• Please obey all trail signs, closures and directional signs.
• Please be respectful of grooming personnel and grooming schedules, understand that they are
subject to change based on conditions.
• Please give way to maintenance and/or grooming equipment, personnel, and/or emergency vehicles.
• If an accident occurs, please offer assistance and report it to the Outdoor Center staff by
calling 207.688.6599.
• Please travel in a way that does not endanger yourself or others. Maintain control of your speed and
direction at all times. Do not stop where you obstruct a trail or are invisible to others using the trail.
• Please respect right-of-way on trails: snowshoers and fat bikers give way to skiers; fat bikers give
way to snowshoers; all give way to grooming equipment.
• Snowshoers and fat bikers should avoid groomed ski tracks, snowshoe trails are also fat bike trails.
• Please carry out all litter.
• Please return to the Outdoor Center by the posted closing time.
• Please remember that common sense and personal awareness can help reduce the elements of risk that skiing and other outdoor activities involve.
Our exceptional outdoor facilities include approximately 30 kilometers of professionally designed, well-kept trails for biking and walking.
We are enthusiastic about providing year-round activities, including trail running, walking and hiking, orienteering, mountain biking, tennis, disc golf, Nordic skiing, dry-land Nordic ski training, sledding and ice skating.
Ski, disc golf, snowshoe, sled, fat bike and chariot rentals are available at the Outdoor Center.
When conditions warrant, trails are groomed and tracked for skate skiing and classic skiing.
Difficulty levels vary not only from trail to trail but also in changing weather conditions.
NO MOTORIZED VEHICLES
ALLOWED ON TRAILS
WARNING!
Under Maine law, a skier assumes the risk of any injury to person or property resulting from any of the inherent dangers and risks of skiing and may not recover from any ski area operator for any injury resulting from any of the inherent dangers and risks of skiing, including, but not limited to: existing and changing weather conditions; existing and changing snow conditions, such as ice, hardpack, powder, packed powder, corn, crust and slush and cut-up, granular and machine-made snow; surface or subsurface conditions, such as dirt, grass, bare spots, rocks, stumps, trees, forest growth or other natural objects and collisions with such natural objects; lift towers, lights, signs, posts, fences, mazes or enclosures, hydrants, water or air pipes, snowmaking and snow-grooming equipment, marked or lit trail maintenance vehicles and snowmobiles, and other man-made structures or objects; variations in steepness or terrain, whether natural or as a result of slope design, snowmaking or grooming operations, including, but not limited to, freestyle terrain, jumps, roads and catwalks or other terrain modifications; the presence of and collisions with other skiers; and the failure of skiers to ski safely, in control or within their own abilities. 32 M.R.S. § 15217(3)