VAST in 2020
After enjoying such a great Fall and Winter, we were well on our way to setting new records for the number of Veterans participating in VAST, the number of days of participation and the number of activities we offered.  Then along came COVID-19, and for us, just like everyone else, life changed.  Unable to meet in person, we resorted to weekly ZOOM meetings just to stay in touch, exchange ideas for getting through the challenge and to encourage everyone to remain physically active.  It was not much, but it was better than nothing.
Finally, on May 6, the restrictions on in person meetings were reduced.  Indoor activities were not permitted, but the weather was warm enough for us to begin cycling and walking around the Pineland Farms campus.  At first there was limited participation, but by adhering to the CDC guidelines for masks, social distancing and sanitation, we developed a confidence level that allowed more Veterans to safely join our weekly Wednesday VAST programming.  In early June we added Boccia to our programming.  And, in July we started up with Archery on Wednesdays; and WC Tennis and Disc Golf on Friday morning and evenings on a weekly basis.  We were not able to work with the Travis Mills Foundation or the S. Paris Veterans Home as we have in the past, but we were providing programming three times a week at Pineland Farms.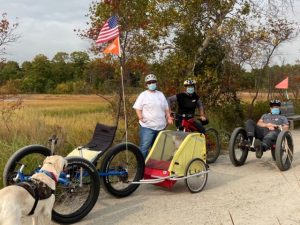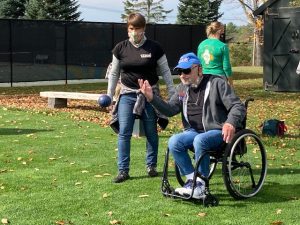 Building on last year's collaboration with the Azimuth Check Foundation for hikes in the Presidential Range, we went on a series of hikes this summer and fall.  After a series of short practice hikes to gauge levels of fitness, we co-hosted a Women Veterans Hike on Aug 1-2 for (13) Veterans, and a Co-ed Veterans Hike on Aug 23-25 for (14) Veterans.   On both occasions, we were fortunate to have individual bedrooms at the AMC facilities, and our own designated dining room. This added to the safety measures we took.  We are extremely grateful for the financial support provided by the Azimuth Check Foundation, and the sponsorship by the AMC (Appalachian Mountain Club) .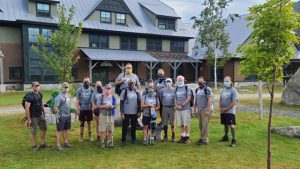 We have also been collaborating this year with the Manchester, NH VA.  Activities started with a Boccia Clinic over ZOOM back in the spring.  More recently, we have conducted a couple of hikes with them.  The first was on Nov 9 at Mt. Willard, NH for (3) Veterans.  The second hike was at Mt. Agamenticus in Cape Neddick for (3) NH Veterans and (2) Maine Veterans.  We are looking forward to having the Manchester folks come to Pineland Farms to enjoy some of what we have to offer.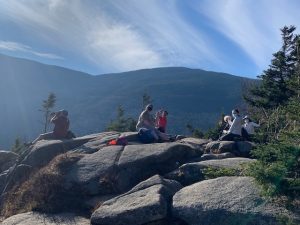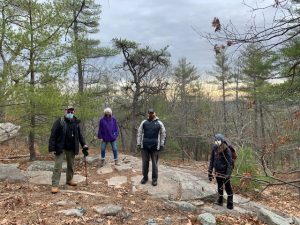 As they have for several years, the Avangrid Foundation (parent company of CMP) has provided grant funding to VAST with a priority being the use of the Maine Huts and Trails and the Adaptive Outdoor Education Center facilities.  Although a September trip proved to be a bridge too far, we were able to take (8) Veterans Mountain Biking and Hiking near Flagstaff Lake Oct 15-17.  Our number was smaller than usual, but it enabled safer sleeping arrangements and less crowding at meals.  This hardy group of Veterans endured both rain and snow!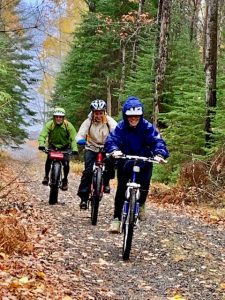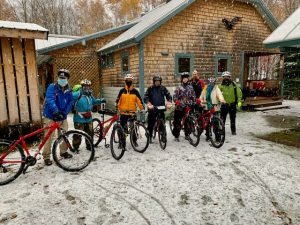 After a lot of careful planning and preparation and with a close adherence to guidelines we brought (5) Maine Veterans to Pineland Farms for our annual deer hunt Nov 1-4.  Because of COVID there was a very reduced amount of interaction with all but one of the staff members not sleeping at Merrill Farmhouse.  Though some of the usual comradery was impacted, it was a good hunt, and the Veterans managed to take three deer.  A special thanks to the guides, Windham Butcher Shop, and the Pineland Outdoor Center staff that worked so hard to make this happen.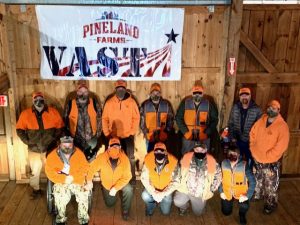 It certainly has been a challenging year and we are not sure what is coming in the next several months.  But, in the end, we think it was a successful year.  By the end of FY20, we had 163 Unique Veterans participate for a total of 981 Participation Days and 114 sessions of various activities.  In the last quarter of the FY ending Sept. 30, we offered 55 different sessions of VAST Programming in 90 days! Given the hurdles we faced, we think that was pretty good.
We have now put away the archery and tennis equipment, but are continuing to offer cycling, disc golf, and walking for our weekly sessions while we wait not so patiently for the snow to start flying!